BRANOmodule – the film principle
BRANOmodule is the film principle of BRANOpac: "our components – your film".

Our film principle offers boundless opportunities for your individual film development. From standard films to special films, whether shrinkable, high slip properties or highly tear-proof – with the support of our BRANOmodule, every customer can create an individual film that does not only effectively protect his specific product from corrosion, but also serves as packaging.

In alignment with the product which needs to be protected, you can choose between different batch systems. Moreover, you can decide between standard or rather special films. Following, you can choose various barrier characteristics as well as additional characteristics such as ESD protection, UV-stability etc. Furthermore, color and mechanics – the latter refers to shrinkable properties, highly tear-proof properties etc. – can be individually adjusted. Ultimately, the film will be especially tailored to your needs.

However, it is also possible to choose a special film from our range of fully configured films which are suitable for various, specific applications and have been developed by our research and development department.

Examples therefore are BRANOfol Multitron, a corrosion protection film which has been especially developed for the electronic industry, or BRANOfol Stretch, a VCI-film that has been optimized for the protection on contact.

BRANOmodule offers you the following advantages:

Potential savings for your business
Optimization of internal packaging processes
Efficient processes cause cost reductions
Individual adjustment enables differentiation

Do you want to benefit from our film principle - and therefore from the innovative technologies of our laboratory as well as from our expert know-how? Please use the contact information on the right-hand side to directly get in touch with us! Besides, you can find further information about our BRANOmodule on our website: www.branopac.com.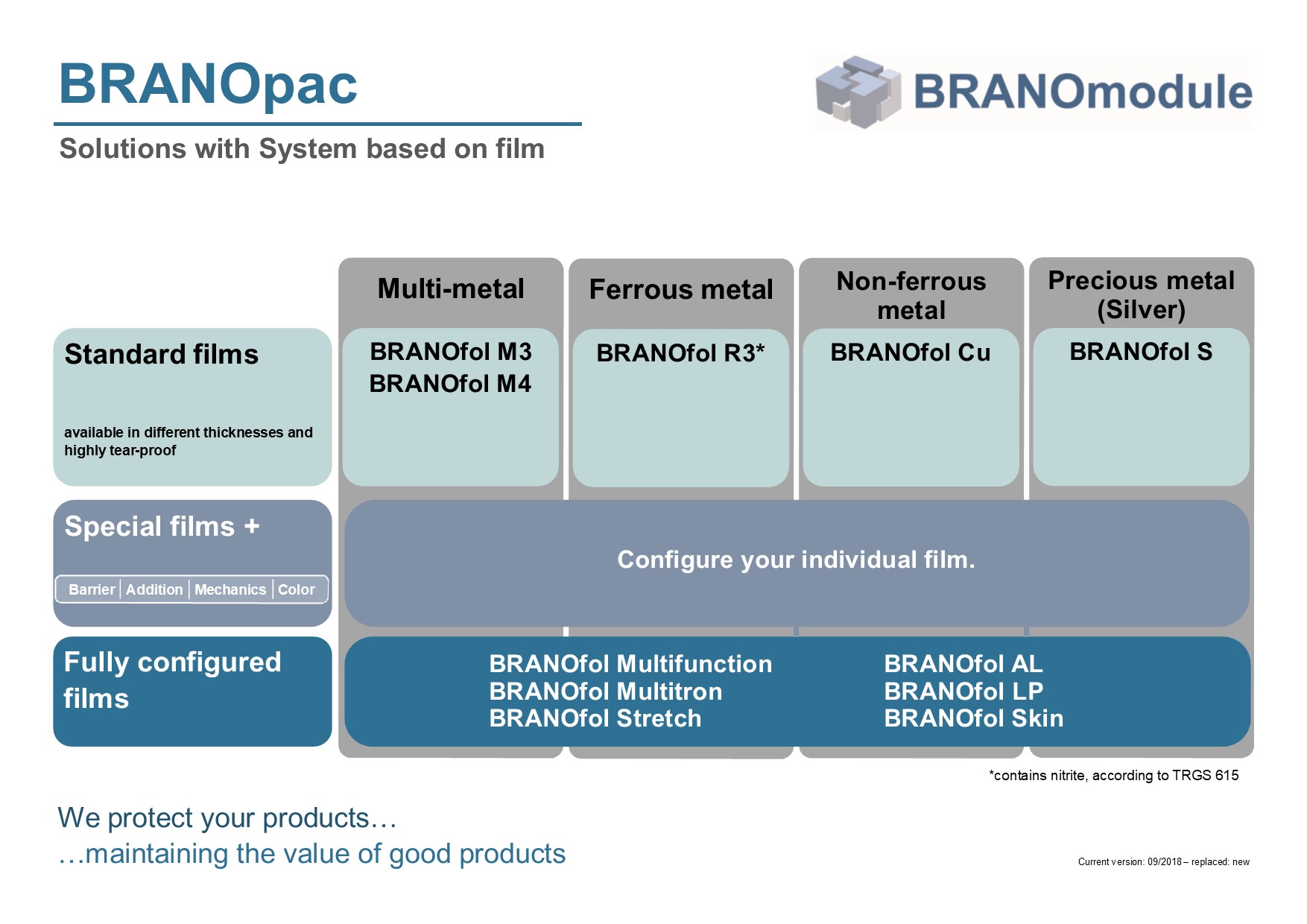 Your Contact Person
We would be pleased to answer your questions to the topic "BRANOmodule – the film principle".